EHK Services: Bringing Housekeeping to a Whole New Level
EHK believes that superior housekeeping and domestic help service is paramount to helping our clients achieve a higher quality of life. We understand that apart from the usual need of keeping a house spic and span, there is a growing demand for other home-related tasks that many of our clients are too busy to attend to. We offer more than the usual house cleaning provisions in order to address a wide range of concerns. All these are geared towards making your home a clean, safe and orderly place to come home to after long hours at work.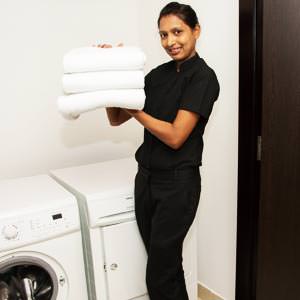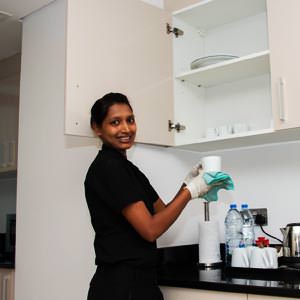 Deploying Trained, Professional and Well-Mannered Staff
EHK prides itself not just on the results of our work but also in quality of domestic personnel we send to help you with your needs. We believe that our own staff is a reflection of the kind of business we dare venture in, so we make it a point to hire only the best and most trainable individuals.
Our pool of domestic help undergo extensive training that allows them to become experts in the field, with up to date knowledge on the best strategies that will help them perform their job in less time, and a wealth of experience that allows them to make sound and right decisions in any given situation. You will definitely find comfort in dealing with friendly and professional EHK domestic help every time you ask us to come over.
We leave no stone unturned and clean your home as if it were our very own!
House Cleaning Services: A clean house is a haven that you look forward to coming home to, which is why we do our very best to give you results that will make you want to hurry home. Our house cleaners move with care and precision, employing appropriate cleaning techniques to different surfaces using safe and effective tools and substances. The result? A sparkling clean home that is free from dirt and allergens, ready and waiting for you to relish in it at the end of the day.
Laundry and Ironing Services : Don't let that pile of unwashed clothing grow: book us and we will have someone over to see to it that your clothes and other washables are freshly laundered and well ironed. We treat clothes with as much respect as our clients themselves, handling delicate garments with gentleness and having an extensive knowledge of how particular fabrics are cleaned and treated. Your whites stay white and all your best outfits have been properly pressed without undue damage.
Kitchen Cleaning Services: Our crews do not only make your kitchen impeccably clean - they have also sanitized it and applied special cleaning techniques to what once were hopelessly stained or darkened kitchen to give it a second lease on life. With the kitchen being the place where you prepare and cook meals for the family, it is only natural for us to say that the job is done when we have rid it of germs, bacteria and other harmful or toxic elements that can make its way into your family's food.
Window Cleaning Services: Our window cleaning service pays special attention to the difficult task of making windows ultra-clear and sparkling clean. You can finally stop trying those window cleaning hacks that usually do not work and only leave you with sore and aching arms. This time, our tried and tested techniques for cleaning a wide variety of windows will be enough to get them squeaky clean and shiny in no time.
Move In/Move Out Cleaning Services: Moving into or out of a home can be a pretty stressful task, which is why our trained crews are there to share in the burden. The task of cleaning a home you are vacating or moving into is no longer something you need to worry about when we are on the job. We can also provide assistance in packing or unpacking your things, taking care to protect breakable items and helping you make your new house a home by setting up your belongings in your new dwelling place. We make sure that you are moving into a clean and well-scrubbed home, or saying goodbye to a spotless and sanitized house that is ready for its new owner!
Party Help: Our team is ready and able to assist you before, during and/or after your special events. We work to give you the party that you want, whether it is an intimate sit-down dinner for six or a milestone birthday party with more than forty invitees. With our staff on hand, you have people who act on instinct when a drink gets spilled or the appetizers will need a refill. From setting up, to serving cocktails and throwing away the last garbage bag, we strive to free your mind of these additional tasks that prevent you from fully enjoying the festivities. Our goal is not just to help you pull off a great celebration but to also do what we can so that you yourself can actually have fun during the event as well.
Holiday/Vacation Services: Will you be out of the country but want to keep your house clean while away on a vacation or holiday? Our team can visit and look after your home to make sure that it remains squeaky clean and not become a spooky abandoned house. We can remove trash and cobwebs, wipe any accumulated dust and scrub dirt and scum build-ups. We guarantee that your house will be impeccably clean and all you have to do is enjoy your vacation. A pristine home will welcome you back when you get home from a well-deserved holiday.
Babysitting Services: Trained in basic childcare and armed with knowledge on child development, our baby-sitters see to it that children are safe, happy and healthy for all the hours under their care. They interact with children in a friendly manner and see to their general and specific needs. They are trained to know what to do in emergency situations and will put your children first. Rest assured that your children are treated well and with large doses of love that only the best baby-sitters like the ones we have trained can.
1. How many persons will clean my home?
We normally send 1 crew, though we can send 2 or more upon your request.
2. What is your rate?
Our rate is AED 35 an hour with minimum 3 service hours. For services with equipment and solutions, rate is at AED 40 per hour.
3. What are your timings?
We are available 7 days a week, 7AM to 10PM.
4. Will I have the same crew every time I book for your service?
There is no guarantee that you will get the same crew, but at most, we can assign the same crew for you. Just request in advance for the crew of your choice.
5. Who provides the cleaning materials, products and equipment?
You can provide cleaning products and tools like mop, broom, cloths, disinfectant sprays, etc. We can provide professional cleaning solutions based on color-coding to reduce the risks of infections and cross contaminations in your home. We can supply them for you but with an additional charge.
6. Do I need to be at home when you clean?
It is preferable that you are at home but if you need to be somewhere else, we request that you arrange access for us to your home. Do the things that you need to do, and we'll make sure that you will come home to a spotless house.
7. How do I pay you?
You can pay cash or with Paypal
8. Is there a contract?
None, definitely no complicated contracts involved.
9. What if I need to reschedule or cancel my booking?
Please make sure to contact us at least 12 hours in advance to reschedule or cancel your booking. Please note if you cancel your booking less than 12 hours, you will be fully charged for the 3 hours of service that you have booked.
10. What about my pets?
We are pet-lovers but sometimes your pets are not comfortable having strangers in your home. If you think that they will be excessively anxious for having us, please arrange a temporary shelter or find them a good spot while we clean.
11. What if something was missing or got broken?
Please notify us immediately so that we can investigate and act on it accordingly.
12. Do you send male or female crew?
We send female crew but we can provide a male crew upon your request.
13. What if I have special instructions?
You can include these instructions when you book the service with us so that we can communicate them in advance to the assigned crew. You can also leave notes for the crew where it can easily be seen.
14. How do we treat our crew?
We respect the UAE labour law. Any additional hour they worked for is overtime. They have day off and proper accommodation, sanitation, clean uniforms, transport, insurance and access to food. Not convinced? Ask our crew about it.
15. How about your privacy?
We protect your privacy and treat your home and personal belongings with utmost care and respect. We value the trust that you give to us that is why you can put your full confidence in us when you ask us to clean and pamper your home.